Tasting my way through Italy with Giro d'Italia
Giro d'Italia is the ultimate Italian food tour in Toronto, where you're able get a taste of the different regions in Italy. The winter Giro d'Italia couldn't have come at a better time - I was craving the comfort that Italian food provides in the cold, harsh Canadian winter. Luckily for me, I indulged in five different spots, all of which were first visits: Stelvio, Posta Italbar Cucina, L'unita, Bricco, Noce.
Whether you want to learn more about Italy's regions and its cooking style or simply want an excuse to try a new Italian restaurant, Giro d'Italia offers menus at $49 per person for a 3- to 4-course dinner. Take a look at the five regions we've tried below.
Stelvio
Region: Lombardia
This Queen West's cozy Italian restaurant featured a true menu from Northern Italy. The Carpaccio di Bresaola, Polenta Fritta and Pizzocheri (buckwheat flour pasta) - standouts from their menu signified key ingredients from the region.
Posta Italbar Cucina
Region: Campania
The coastal region uses inexpensive ingredients like pasta and herbs as well as seafood and that's exactly what Posta offered: Paccheri con Frutti di Mare, Pasta Scarpinocc, , both with house-made pastas as well as Zuppa di Pesce - a hearty seafood stew.
L'unita
Region: Valle d'Aosta
This smaller region is tucked away in Northwestern Italy where it's quite mountainous and known for hunting. They're known for rich food and cured meats. The first course with Sourdough bread with chestnuts & lardo, Fontina D.O.P, bresaola, pork terrine, pickled cabbage, cetriolini & mostarda was enough to take us to that region.
Bricco
Region: Lazio
This was the restaurant I was most surprised. Their menu items were all good but the pastas really were standouts - especially the Truffle spaghetti (mind you, this was on their specials menu, not on Giro). The central region of Lazio likes to keep things simple and their menu at Bricco let the ingredients do their thing.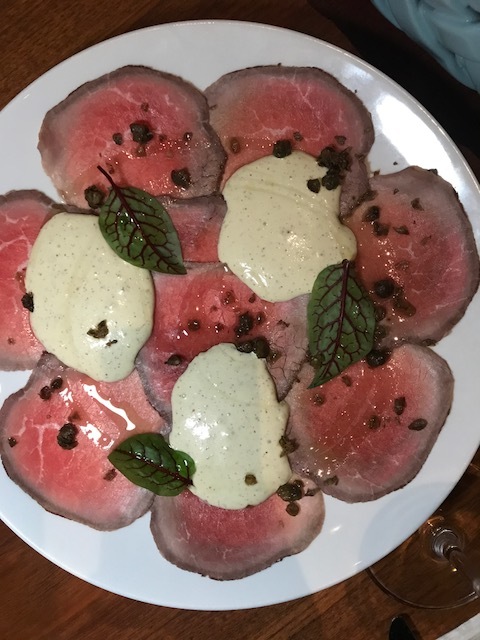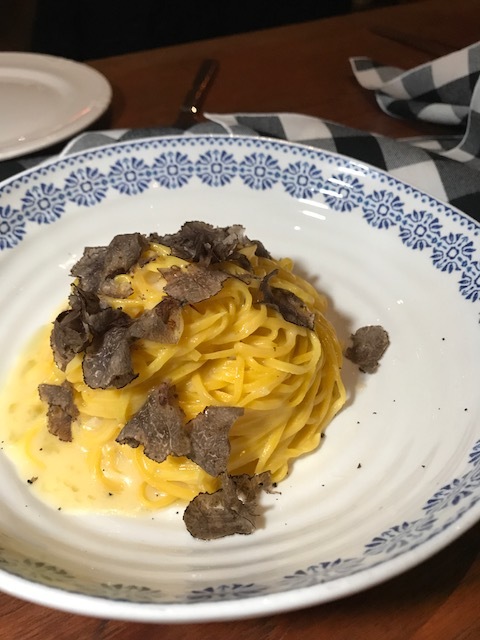 Noce
Region: Trentino-Alto Adige
This area is also known for its mountainous peaks but on the Northeastern side. Canedeli is a dumpling that's made from leftover bread and let me tell you, Noce's Canederli di Barbabietola con Panna (Bread & beet dumplings with butter & cream sauce) definitely didn't come from anyone's leftovers. Another notable recipe from this region is a Strudel and Noce's take included smoked cured meat wrapped Dolomiten Konig cheese & apple - so delicious! They probably featured a menu that I enjoyed the most.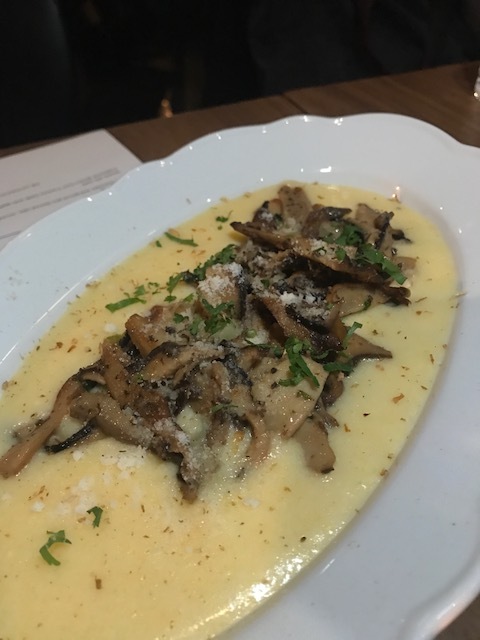 Oh, did I mention that I went to these five restaurants in a span of 6 days? Tell me you're not impressed!
The next Giro d'Italia is coming up in the summer from July 5 - 15. You can check out the menu and make reservations on their website: www.girotoronto.ca.